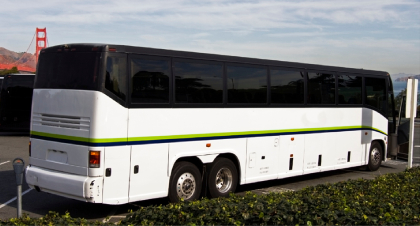 When planning group travel, one of the critical decisions you'll make is choosing the right charter bus. Whether you're organizing a corporate outing, a school field trip, a wedding shuttle, or any other group event, the amenities offered by your charter bus can significantly impact the overall experience. To ensure your journey is comfortable, enjoyable, and meets your group's specific needs, it's essential to know what to look for in a charter bus. In this in-depth guide, we will highlight the vital amenities that should take precedence on your checklist when you're in the process of selecting a charter bus from ABC Coach.
Comfortable Seating: Comfort is paramount during long trips. Look for charter buses with spacious, cushioned seats that offer ample legroom. Reclining options can be a bonus for added relaxation during the journey.
Air Conditioning and Climate Control: Ensure the bus has efficient air conditioning and heating systems. It is crucial for maintaining a comfortable interior temperature, especially during extreme weather conditions.
Restrooms: Having an onboard bathroom can be a game-changer for longer journeys. It reduces the need for frequent stops and keeps passengers comfortable throughout the trip.
Entertainment System: Keep your group entertained with amenities like TV screens, DVD players, or Wi-Fi. These features can make the journey more enjoyable, especially for students or groups travelling long distances.
Storage Space: Ample storage space for luggage and personal belongings is essential. Look for overhead compartments and undercarriage storage options to accommodate your group's needs.
Accessibility Features: If you have passengers with mobility challenges, make sure the bus is equipped with wheelchair lifts or ramps and accommodations for individuals with disabilities.
Power Outlets and USB Ports: In today's connected world, having power outlets and USB ports on board can be a big plus. Passengers can charge their devices, keeping them connected and entertained.
Onboard Kitchenette: Having an onboard kitchenette can be convenient for longer trips. It allows you to serve snacks and refreshments without frequent stops.
GPS and Navigation Systems: Charter buses equipped with modern navigation systems and GPS can ensure a smooth, efficient journey, minimizing the chances of getting lost.
Safety Features: Prioritize safety with amenities like seat belts, first aid kits, and emergency exits. Ensuring the charter bus meets safety regulations is crucial.
Professional Drivers: Last but not least, your driver is an important amenity. Choose a charter bus company like ABC Coach with experienced, trained drivers who prioritize passenger safety and comfort.
When choosing ABC Coach for your charter bus requirements, you can rely on a huge range of amenities to enhance your group's travel experience. From our comfortable seating to modern entertainment options and safety features, we're committed to making your journey enjoyable and worry-free.
In conclusion, selecting the right charter bus with the appropriate amenities can significantly enhance your group's travel experience. ABC Coach provides a fleet of well-equipped charter buses to meet your specific needs, ensuring that your journey is comfortable, safe, and enjoyable from start to finish. Feel free to get in touch with us now to discover additional details about our offerings and amenities. Allow us to assist you in crafting your upcoming group expedition!